Why MacBook Pro i9 is trash?
---
I bought MacBook Pro i9(15 inches) last year, and at the time of purchase, this was the best MacBook laptop available. You can say I bought the best apple laptop available in India.
I was hungry and I got foolish by Apple MacBook i9
I feel MacBook pro i9 is slower than it's lower configuration laptop. I have felt this after using some other laptop. MacBook Air could be compared with MacBook pro i9.
All MacBook Pro aren't trashed I only feel this about MacBook pro with i9 processor. I am disappointed and I hate apple MacBook pro i9.
There is a big thread on Reddit you can read.
I heard that Apple release some updates after this review. Do you think you can fix this kind of issue with some software update? Defiantly not
| Section | Description |
| --- | --- |
| Before MacBook | What device I was using before MacBook and it's experience? |
| Initial Experience with MacBook | What was my quick feedback after using MacBook for a week? |
| One Month Experience | My Experience after using 1 month |
| Three Month Experience | My Experience after using 3 months |
| Heating issue | MacBook Heating or temperature issue. |
| Audio Recording | Issue related to audion recoding |
| Things which I like about my laptop? | What are the things which I like in the MacBook? |
| Current Experience | What I am thinking now after 10 month's of using MacBook |
| Conclusion | What I will do next and why you should do? |
Who am I? #
Is it important that you know a little bit more about my background i.e what do I do? So you can understand my use case with MacBook.
Android
Flutter
React Native
Full Stack JavaScript developer
Before MacBook #
Before MacBook, I was using Acer Nitro 5 (2018) which was a pretty decent device and I was totally happy with the performance.
Acer Nitro 5 Configuration
| Spec | Value |
| --- | --- |
| RAM | 16GB |
| SSD | 128GB |
| Hard Disk | 1TB |
| Processor | i7 7gen |
| Nvidia | 1050 |
After Seeing the Configuration, you can understand that wasn't any normal laptop. It was famous for gaming but I don't play games. So, In doing programming I never faced any issue and everything was going well.
Why do I need MacBook? #
Yes, this question could hit in your mind if I was so much happy with it then I do I bought a MacBook. I want to get into the development of apple device-related software. I can't do that with Windows of Linux and I don't want to waste the time in using Hackintosh.
Cons of Last laptop #
Defiantly there was some issue with my last laptop but it wasn't related to the performance.
| Type | Issue |
| --- | --- |
| Wight | It's weight was high |
| body material | Laptop Body material wasn't good enough |
| hinge issue | Laptop got a break to hinge part |
| battery | Because fo high performance, the battery does not last long |
| plug charger while using | Most of the time, I use my laptop while charging |
| battery backup | because of charging always it battery backup decreased soon |
Initial Experience - First Week #
I was more than happy when I got my first MacBook because before buying it I eared more than that. I did this so that I can proudly say I deserve this.
In India, Our parents pay all our bills for a long time. So, most of the time people get lots of things which they don't deserve.
I was so much excited that I installed some software in which I would like to work using that machine(MacBook).
I installed Android Studio and it's Virtual Device. I start the QuickTime player and started recoding my Screen i.e Making Tutorial Video and I was shocked with the result that it was making noise. Now I will not able to speak while recording.
I bought my laptop from iDelta and asked for a return and they said it's impossible. We don't take a return and I said I will buy something else and they said no.
It's possible to return the laptop in lots of countries but not possible in India.
One Month Experience #
I used to work most of the time on my Acer laptop instead of the MacBook. I used to use it for mac specific things. So I didn't notice anything. In fact, I don't think I have turned my laptop ON more than 10 times in the initial month.
I was looking for someone who would like to buy it but could not able to find it because it was quite expensive. If anyone could afford the less than one-month-old then probably they can also buy a new one.
Three Month Experience #
As time goes I gave one of my Acer laptops to my brother and start using MacBook every day. I started facing other issues and it's common for most of the MacBook users.
Keyboard issue #
The keyboard button starts behaving unexpectedly and as I programmer I suffered a lot because of that. Your keyboard behaves like a touch screen. Just touch the button it will get pressed. This wasn't a permanent issue, it gets fixed automatically within 2 days or week.
Apple considers this issue as their mistake and they are ready to change the keyboard. I visited the Apple Service center they ask for 15 days.
I asked 15 days is too long that they said the laptop will go to Bangalore, India for diagnosis and if required then there will be replacement of the keyboard.
I told them that I am a student and I use this in daily class. I can't attend my class without a laptop, will I get some other laptop for 15 days. They said no you will not get anything for our side.
Heating issue #
The Apple MacBook i9 (15 inches) heat so much that you can't even imagine. A normal person can't even touch it for continuously one minute.
Today I saw it goes to 100 degree but in general it not that much hight. It is somewhere around at 60. But While working with my actual stuff(my high computation job) it goes way higher than 100 degree.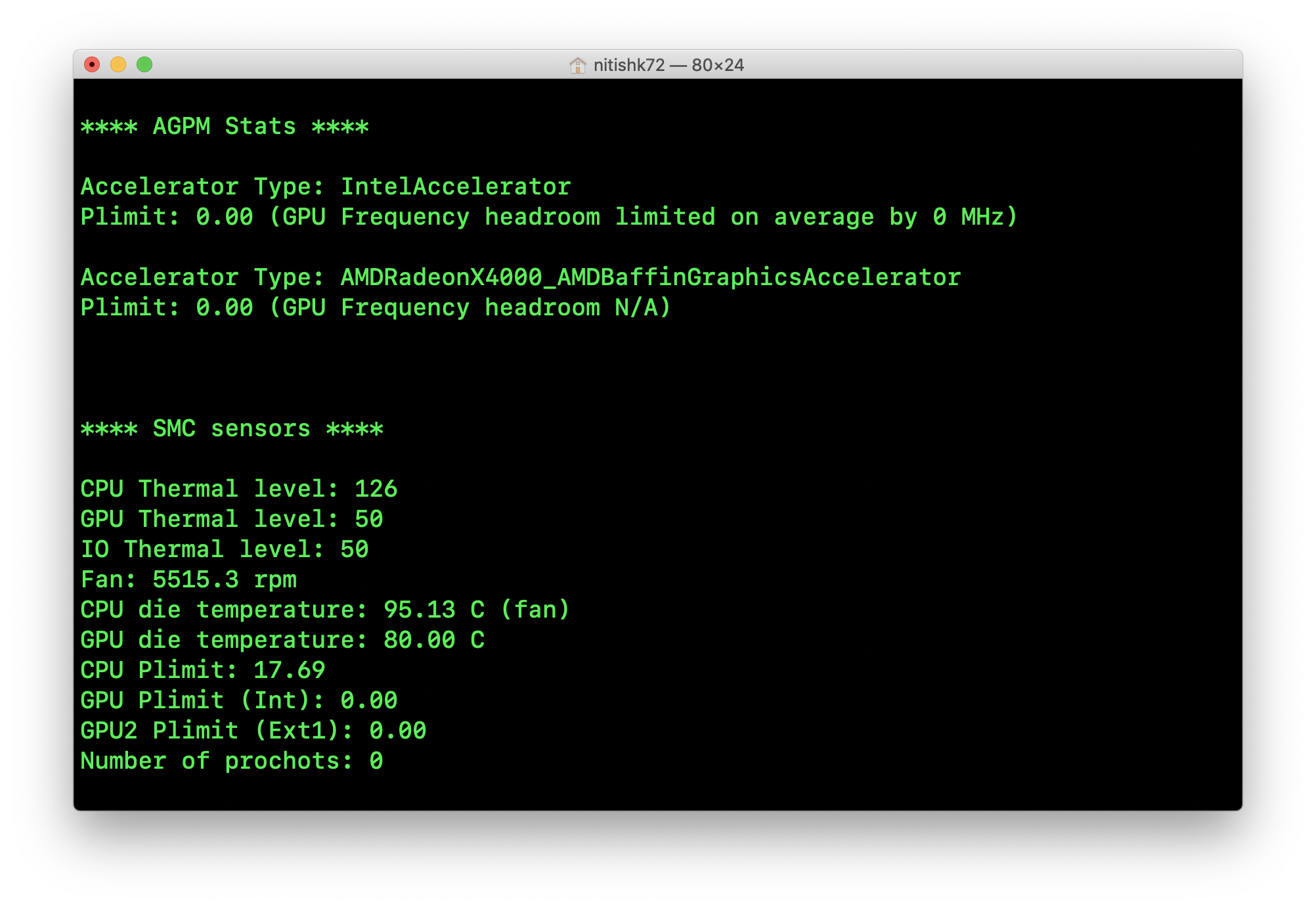 Before buying a MacBook, I used to call Xiaomi(a Chinese company) as the most heated device. Now it's on Number 2, Apple is at position 1.
Let me show you the normal temperature of my laptop. It can be found while browsing some website on Chrome (Google) and running VS Code Editor (Microsoft)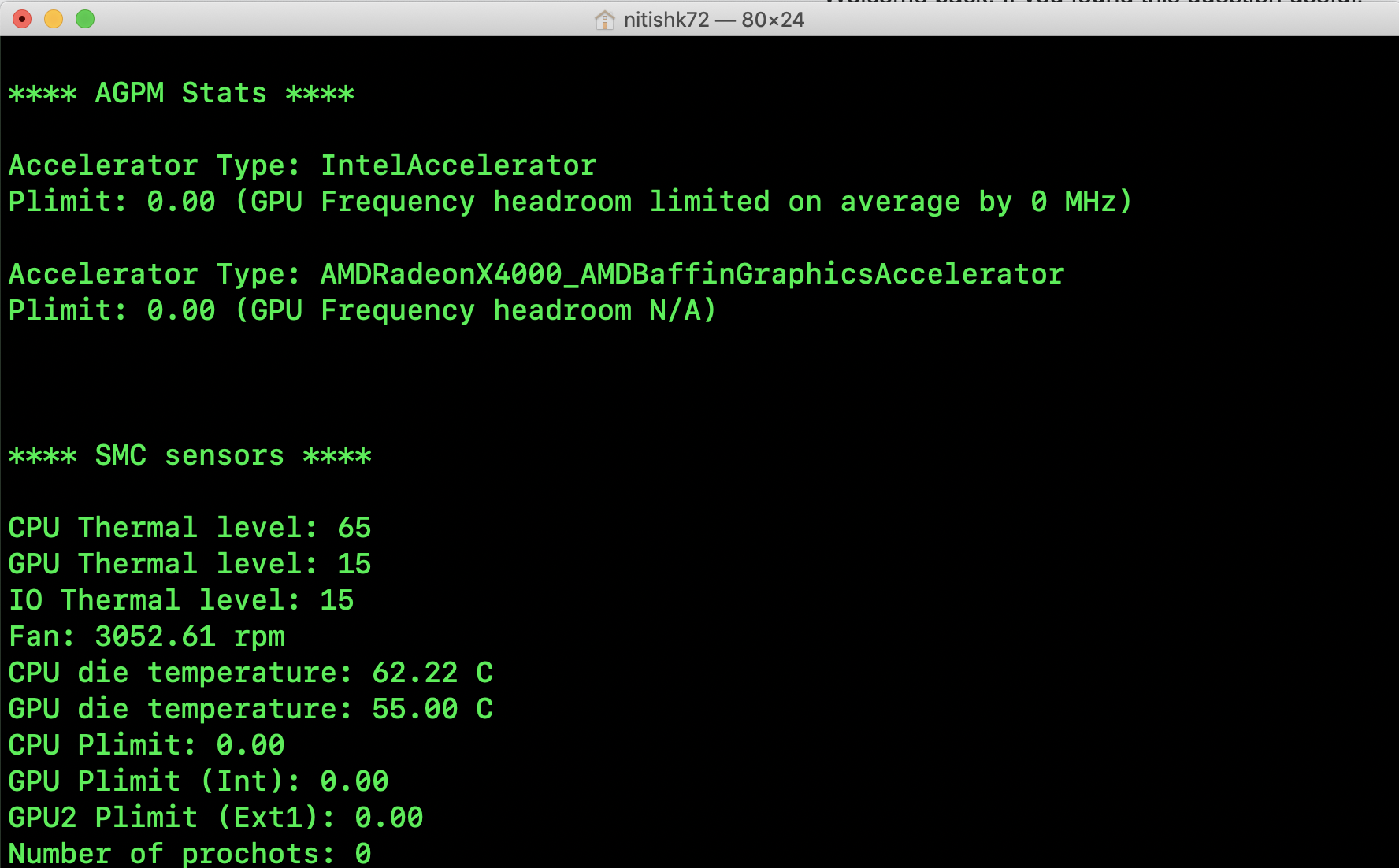 Audio Recoding #
I understand if video recoding makes noise while recoding but suppose audio recoding also starts making noise. How will you deal with that? Will you use the editor when?
To make videos for YouTube, I used to do screen recording without sound. After that I record the sound add it to the video. I was recording audio and video using Quick Time Player but separately. After recording both the things I used to mix them using Quick Time Player.
I wasn't using any 3rd party software, I can deal with noise while doing video receding but can't deal when doing audio recording.
I really like the Quick Time Player of Apple it has lots of features and I never expected I can't these many things using any Player.
Touchbar Issue #
I had face issue with Touchbar too and it's very common issue and it's quite common. My college with MacBook pro i7(16 inch) also faced this issue. So Now I got some idea that some of the issue are still in 2020 MacBook model.
Apple should provide extra support in terms of warranty because the kind of issue people are facing is un-acceptable. If you buy the pro product of some company it has so much of issue.
Apple don't consider themselves as some company it's THE APPLE .
Current Experience #
I am facing multiple issues now most of them are happening because I things which requires lots computation. I want to submit my laptop to the Apple Care but because of Lockdown I can't do.
Somehow I manage my work with all the problems but it's intolerable. I don't have any choice in this pandemic that working with trash
I ignore the sound and try to focus on my work. I will visit the service center once the Lockdown(COVID-19 Lockdown) stops in my area.
Things which I like about my laptop? #
Nothing
Seriously, in terms of performance, I didn't like anything. Performance is not justified with the price, My old laptop performance is still better than this. I use Android Studio + Android Virtual Device + Screen Recoding and it's fine. I can't do that for very long but for a short time it's good.
On a serious note, there are some of the things which I liked but those are not related to performance. I expect no one buys a laptop to use the Apple software only. We use lots of different software and it should work better with that too.
Talking about software isn't good but then also I am mentioning what software I liked
Keynote is awesome
I like facetime too
I like Xcode and it is really great.
I also like the Quick Time Player
Safari is also good
It would be great if I had bought MacBook air, I feel it's more than this. I feel the kind of speed I should get with i9 is not there. I am getting limited performance along with the heating issue.
MacBook air is better than i9
Conclusion #
I have little regret that If I would have bought something else at less price then it would be more worthful i.e MacBook Air.
I don't have any experience with MacBook pro i9(16 inches) but sooner I will buy than or wait for 2021. I build software for Apple-related devices, So I will surely buy anther MacBook sooner or later.
Somehow my work could be completed using the MacBook pro i9(15 inches) but It a little bit painful sometimes.
I am a student, so I defiantly required a laptop, so that I can take that anywhere. I will also try iMac because that might be better for me.
Last updated at Wednesday, Jul 29, 2020 by Nitish Kumar Singh