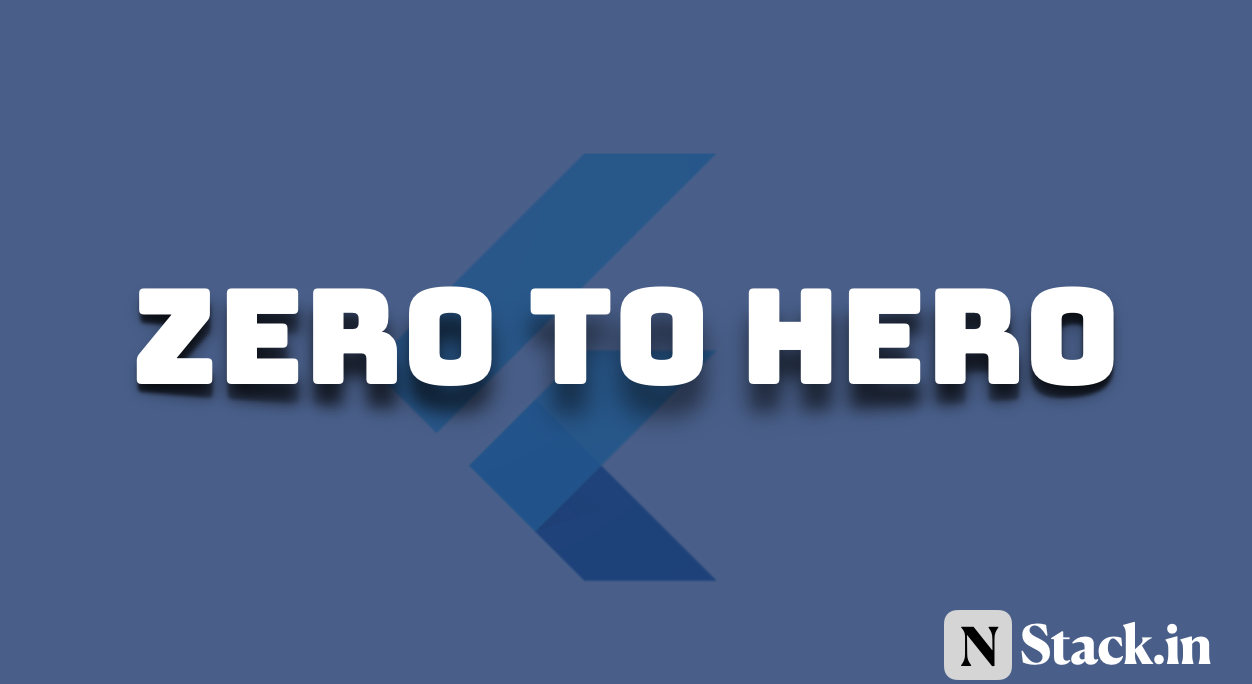 Event Start Date : 25 Jan 2021
---
Flutter: Zero to Hero
This is 1 month Live course where you will learn about building a Building Cross-platform app using FLutter. I know you might have some question about the course/event. I tried to answer some of them and you can ask question in the comment too.
If you are looking for a career in flutter or want to learn flutter then you should enroll in this course. We don't ask for any prior knowledge of Dart or FLutter.
Everything will be start from Zero
Pre-requisites #
I expect you to be familiar with Basic of Programming. I want you have some knowledge, what's programming and how it works?
i.e You have wrote some code in Java, C, C++, JavaScript or any programming.
Hardware #
Laptop/ Desktop
6GB RAM or higher
20 GB free disk space or higher
Software #
For Windows user, you must have Windows 7 SP1 or later (64-bit), x86-64 based.
For MacBook user, you must macOS (64-bit)
For Linux user, you must Linux (64-bit)
How to enroll in this course? #
We will start the enrollment in this course from 03rd of January 2020.
You can connect with us on Facebook or Twitter. We will be sharing all our updates there.
Course Outline #
Module 1 - Basics of Dart
Module 2 - Basics of Flutter
Module 3 - Flutter Widget Garden
Module 4 - Firebase
Module 5 - API Integration
Module 6 - Plugins
Module 7 - State Management
Module 8 - Bonus
You can download the detailed course outline by click on the Course Outline button below
Event Details #
The actual Enrollment Fee is ₹ 3,999.00.
The event is going to be hosted online. Enrollment Fee is less because I want to make this event as affordable. If you are interested in the course and thinking for enrollment then do it right now.
The price is low and you will be learning live which means you can ask whatever you want to ask. You will get an instant answer to all your questions.
If you can't afford this then text me anywhere for discount, but message only if you can't afford it.
If above link doesn't work https://live.nstack.in/events/flutter-zero-to-hero/
Registration will close on 25th January 2020
FAQs #
Q1. Should I go with this course?
Ans. If you are interested in learning flutter or career in flutter then you should enroll.
Q2. What will be course guidelines?
Ans. I have mentions the course guidelines and you should take a look there before registering for the course.
Q3. How many hours I will be taught in one day?
Ans. At least 3 hours and at max 4 hours.
Q4. Does this continue 3/4 hours class?
Ans. No will take at least 1 and at most 2 breaks every day.
Q5. Will I get a refund I change my mind later?
Ans. Yes, but there will be 10% deduction of the actual course cost.
Q6. Will I get an instant refund?
Ans. You will probably get a refund in the next 4 working days.
Q7. Can I transfer my registration?
Ans. No, we will not registration at our end.
Q7. Can I transfer my registration at my end?
Ans. Yes, you can share the account with your friends and he/she can attend.
Q8. Is the course length(45hours) is fixed?
Ans. No, it's not fixed and it will differ based on the our pace.
---
Thank you
See you in the course