Event Start Date : 16 May 2020
---
ngGirls @ Australia Online 2020
Event Date and Time #
Saturday, May 16th, 2020, between 09:00 AM - 5:00 PM AEST, Online.
I am really happy to announce, this year I'll be Mentors for ngGirl Australia's. This is very first @AngularGirls event🥳🥳🥳.
Prerequisites: #
You would need to have a basic understanding of HTML, CSS, and JavaScript. That said additional small tasks will be given to you to help you revise basic web technologies knowledge before the event.
Registration #
The workshop is free of charge. Just fill out the application form. Don't wait too long - The seats are limited. So the registration is open till May 11th, 2020 or till the seats last. Hurry up! For more information check out the FAQ
Schedule #
| Schedule | All times are in AEST |
| --- | --- |
| 09:00 AM - 09:15 AM | Check in |
| 09:15 AM - 09:30 AM | Introduction to ngGirls and Angular |
| 09:30 AM - 10:00 AM | Keynote by Tanya Butenko (Muses Code JS) |
| 10:00 AM - 12:30 AM | Coding |
| 12:30 AM - 01:30 PM | Lunch break |
| 01:30 PM - 04:45 PM | Continue coding |
| 04:45 PM - 05:00 PM | Closing lecture and goodbyes |
What's this workshop about? #
During the workshop, you will build and deploy your very first Angular Web Application! Angular is an open-source platform for building a web application, developed by Google and the community. It gives various tools to easily create a dynamic, interactive app that can run on desktop browsers, mobile, and even robots!
What mentors will do? #
All participants will be divided into groups of 3-5 and each group is assigned a Mentor. This mentor will also guide the teams through the whole installation process and will be available for any kind of question before and of course during the workshop. Together in this team, you will develop an Angular Application divided in step by step tasks.
In a guided tutorial you will learn:
The basics of Web Development
Angular Development
How to continue your journey as a developer
Mentors #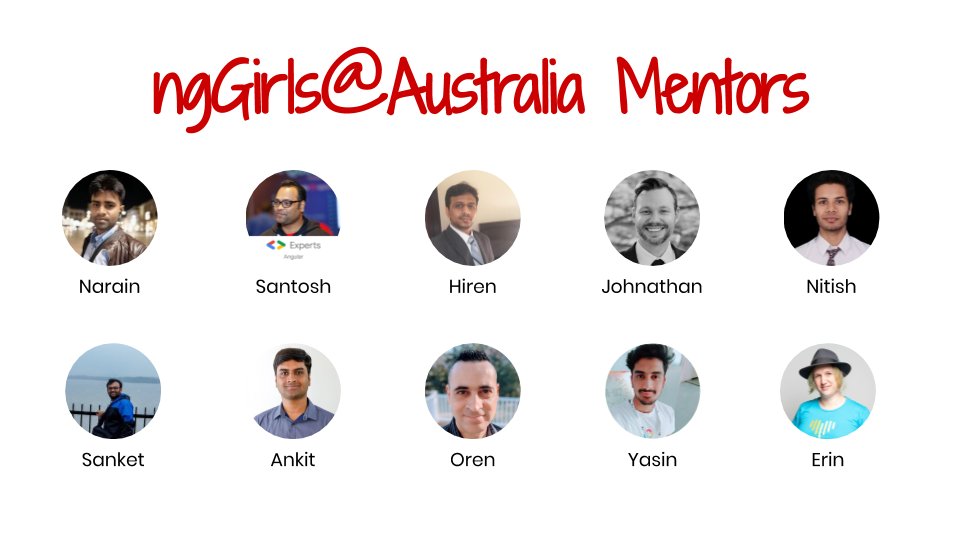 I am mentor at this event and I am not only the mentor at this event. There are more awesome mentors at this event. Name of all the mentor which will be available:-
We are not limited to these much mentors, We have more mentors out there.
Please welcome our first round of Mentors for Australia's very first @AngularGirls event 🥳🥳🥳@narainsagar @SantoshYadavDev @hjdave @JohnathanHair @nitishk72_ @sanketmaru @ankitsharma_007 @orizens @YasinShah9598 @ErinJZimmer

Thank you all 🙏🙏🙏#WomenInTech #WomenWhoCode pic.twitter.com/s7q49rQn7i

— ngGirls (@AngularGirls) May 13, 2020
Important Links #
There are some of the most important links which might help you or help us.
---
All the image used in this website are taken from @ngGirl twitter handler.